About 
King Kong Live is the live e-sports platform, let streamers express themselves here. We hope that through King Kong Live, streamers will be closer to the audience.
金剛直播是遊戲實況平台,我們專注讓遊戲實況主在平台上表現自己最好的一面。我們期望透過金剛直播 APP,拉近實況主與觀眾之間的距離。
Role
UI/UX Designer
UI, UX, Interaction, Research, Style Guide
Since the mobile game market growing really fast in recent years, more and more streamers start to focus on mobile game streaming. In addition, the team found that the viewers' watching behavior is different from the past so we faced several problems
1. How to let the streamer live stream on the mobile phone?
2. How to let the audience watch the game live stream instantly?
3. How to let the audience donated the streamer that they like?
近年來手遊市場越來越大,許多實況主開始專注在手機遊戲上,所以我們團隊面臨了幾個問題:
1

. 如何讓實況主直接用手機直播


2

. 如何讓觀眾可以即時收看遊戲直播


3

. 如何讓觀眾送禮物給實況主
Research
In order to understand the insights of why people favor watching others playing games, our team began to analyze and research all the game streaming products on the market.
為什麼大家喜歡看別人玩遊戲?為了了解遊戲直播生態,我們團隊開始對目前市面上相關的產品進行分析與研究。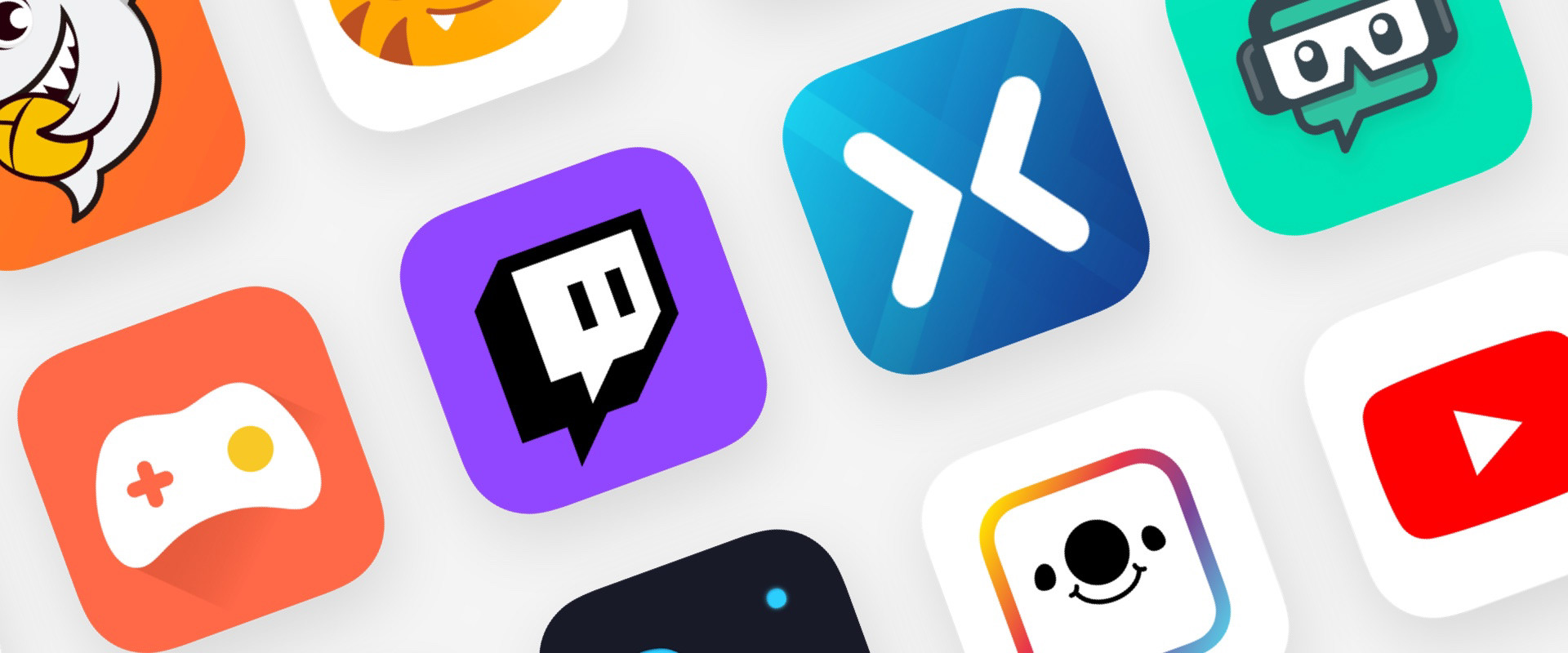 Analysis
As a result of our research, we defined the feature into three groups: must have, should have, and Don't need now. This is important things that help our team to understand our priorities.
根據我們研究的結果,我們將功能分成三組:必須要有、應該要有、現在還不需要,這能幫助團隊理解我們的優先順序。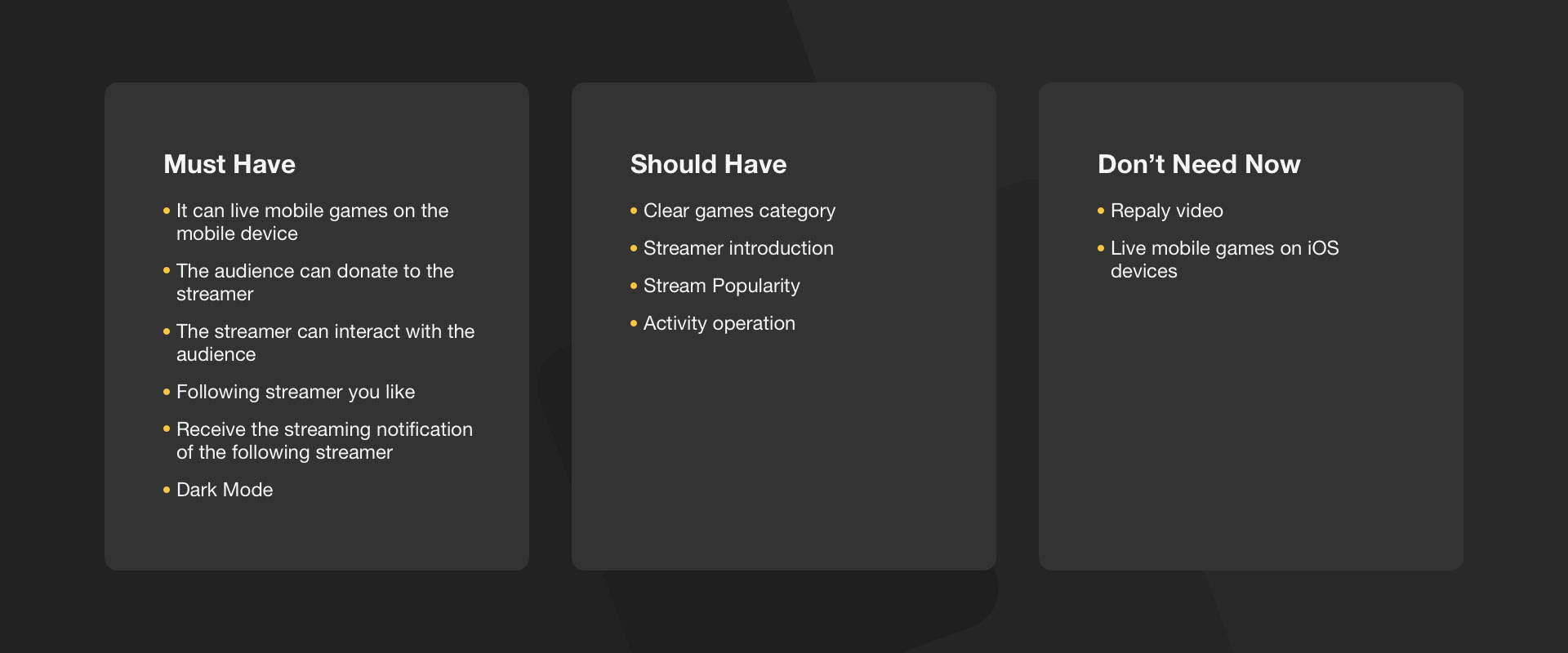 Wireframe
Based on user flow was developed wireframes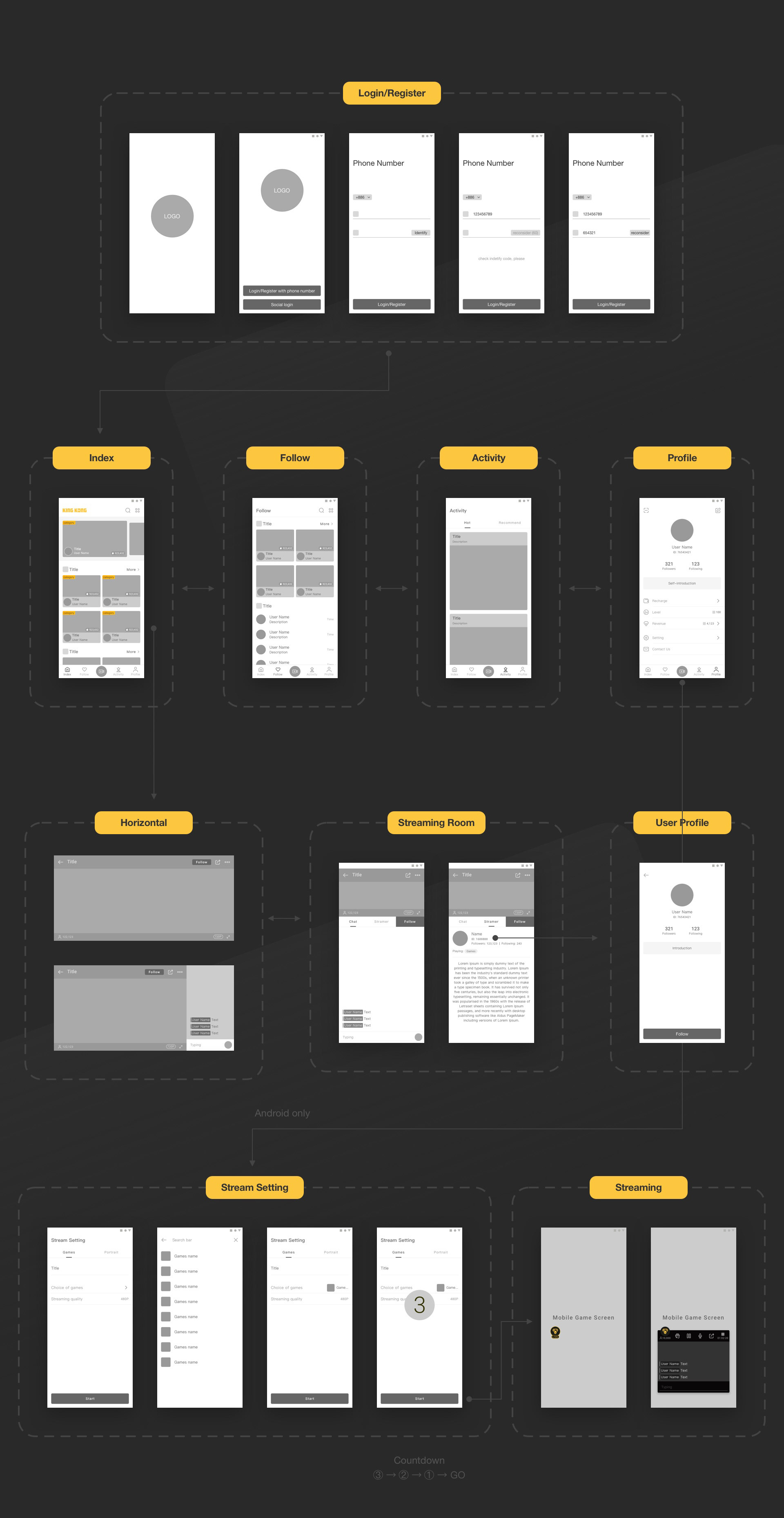 Design Goal
Our team found that the dark mode can highlight the live stream more. In addition, the dark mode can indeed reduce the power of mobile.
我們發現深色模式能更加凸顯影片內容,此外,深色模式也能減少手機的耗電量。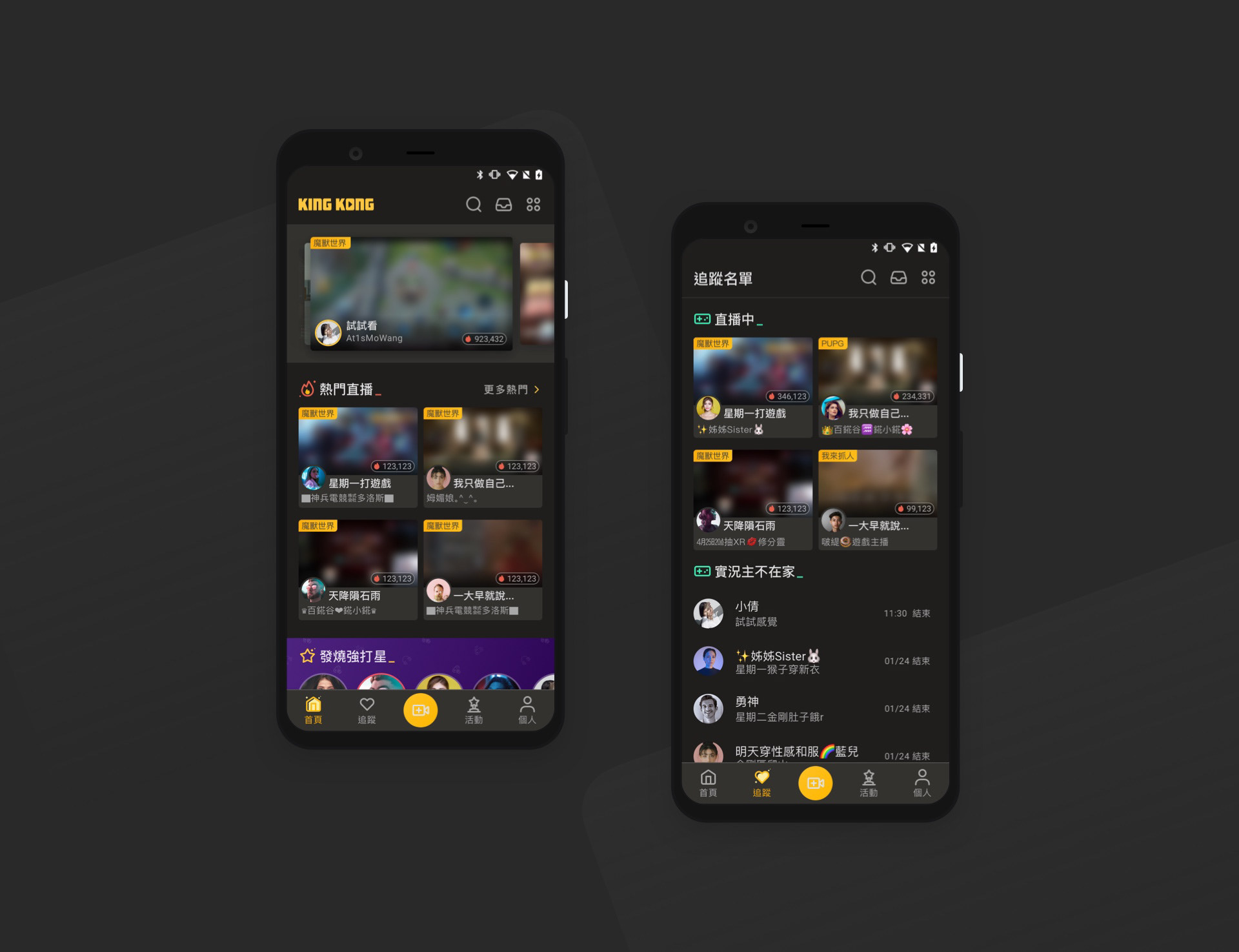 Streamers can live game stream on mobile at any time through the KingKong App
實況主可以透過 KingKong App,不受裝置限制,隨時可以開播。
King Kong App supports responsive orientation most users prefer to watch lives with the device-oriented horizontally while accompanying real-time chat and interaction.
支援響應式直播間,大多數用戶更喜歡在橫向的螢幕上觀看直播,同時進行聊天以及互動。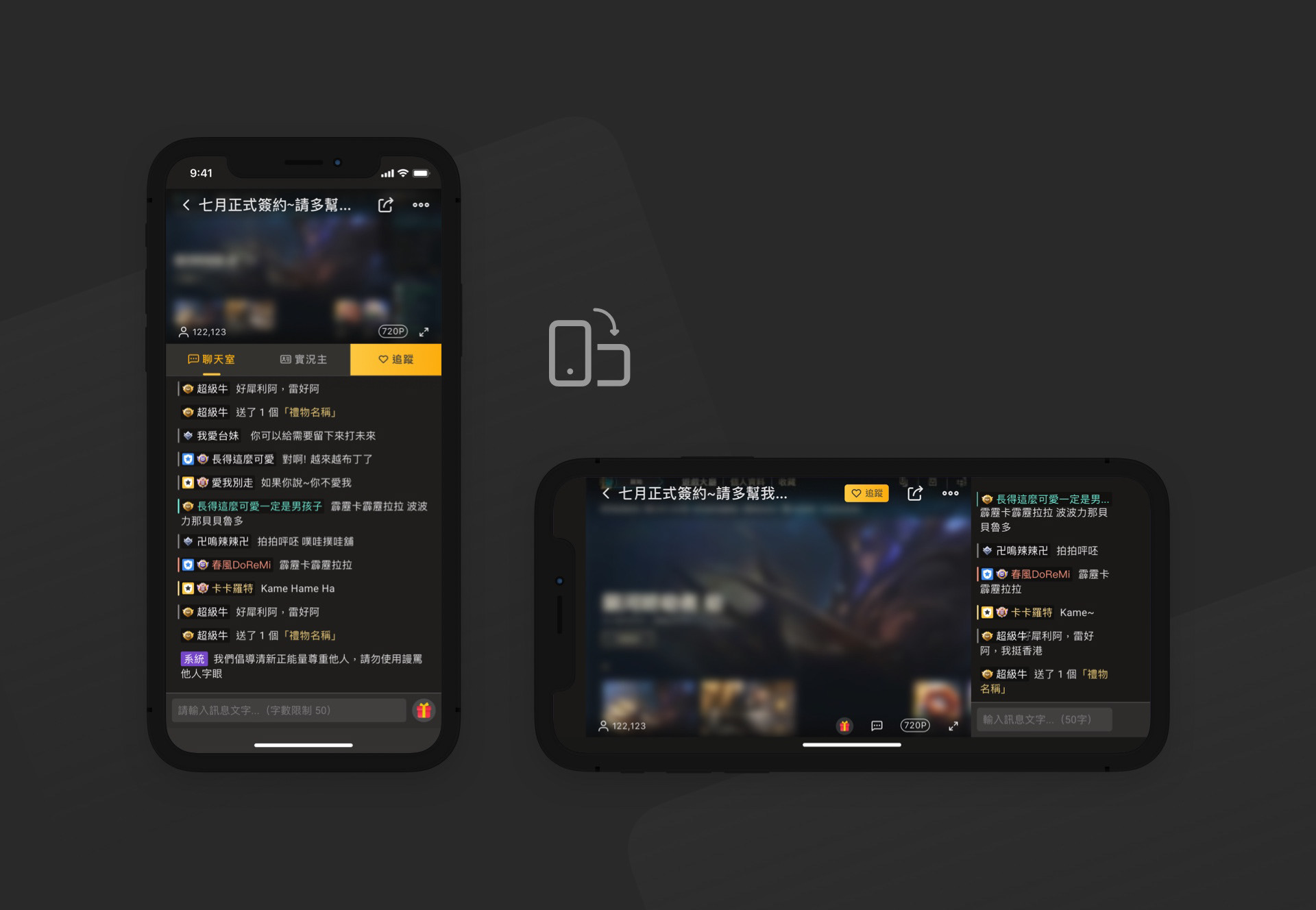 The audience can send gifts to the streamer to increase the popularity of the streamer.